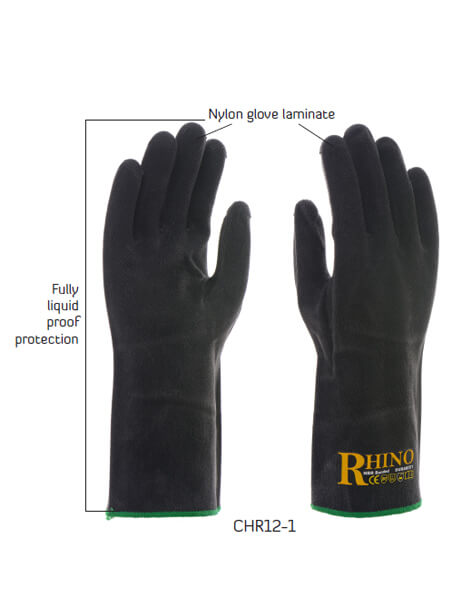 CHR12 RHINO™
The RHINO™ glove is 2 layers gloves laminate together, 13 mil nitrile thinness and outer is coarse nylon fibre provides superior grip and abrasion.
Ergonomic hand shape provides an excellent natural fit.
Hypoallergenic properties-The glove is ideal for anyone sensitive to natural rubber latex proteins or glove chemicals.
Dipped rough finish makes handling wet. Slippery materials easier and safer.
Broad spectrum resistance to wide range of chemical, including oils, acids, solvents and caustics.
Provides liquid proof protection.
Length: 30cm
Size: 7(M), 8(L), 9(XL) & 10(XXL)
Applications: Ideal for use in industrial cleaning, maintenance, chemical cleaning, engineering and general wet handling tasks.