2RABOND Innovative Technology
Our gloves are innovative, specialized liquid proof product for a vast range of application recently presented and launched on the international market. Our gloves are manufactured using innovative technology by which a ladder proof micro fabric made of an extremely fine ployamide yarn and completely free of cross and vertical seams are joined to and incorporated in the wall of the glove. This indissoluble combination forms a complete insulation layer between the latex/nitrile wall of the gloves and the user's skin, with huge advantages in terms of practically, comfort and safety of the users.
These gloves ensure a significant reduction in hand sweating with respect to traditional latex/nitrile gloves and virtually eliminate all allergic reaction to the point and intermediate products present in latex/nitrile, even in individuals with particularly sensitive immune system. The insulation provided by the ladder proof continuous weft fabric also represent an ideal "shield" for the hands against the electrostatic and electromagnetic radiation continually emitted in laboratories.
It provides isothermal protection for the surface of the user's hands, which has an anti-fatigue effect, stimulates the well being of the muscles and gives a feeling of safety, comfort and ease of handling. High Performance Chemical, Cut resistant and Thermal protection glove with industry-leading grip and superior dexterity.
2rabond Terry Lined Heavy-Duty Neoprene Gloves
Chemical Resistant – Neoprene
Resists a wide range of chemicals

Good puncture and abrasion resistance

Offers heat stability up to 93°C

Good for hot/cold applications; intermittent contact up to 400°F

Acrylic terry lining protect hands against thermal contact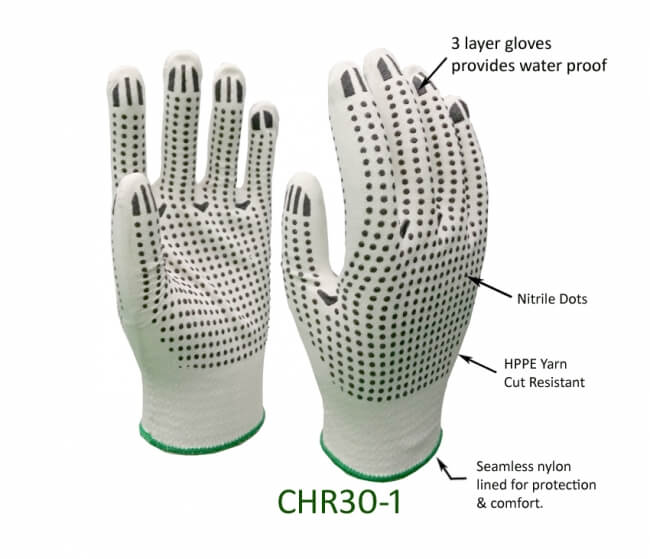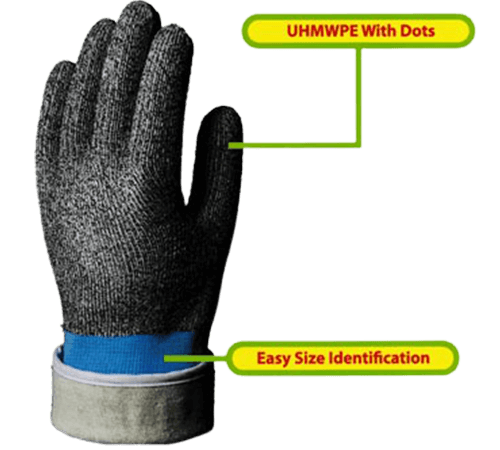 Revolutionary Full Hand and Finger Protection
Impregnated nitrile dots adhered to the palm of the glove enhance overall grip.

Additionally the raised NBR dots extend the life of the glove by absorbing wear away from the palm fabric.
Recommended Usage
Medium and heavy application requiring cut, chemical resistance and thermal protection against oils and greases in the following industries :
Automotive & OEM

Oil and Chemical

Metal

Machinery & equipment

Building & construction
Cut, Chemical and Thermal protection
2RABOND technology is a transformer that can upgrade the function of a liquid resistant glove to be in both cut resistant and chemical proof glove.
Thermal resistant feature can be added and the safety cuff shape is designed to prevent snagging, avoid itching on bare hands and ease size identification with color over-edge. Wearers keep their hands clean and their skin protected from harmful contact with oils, chemicals and other liquids.